T.N.R.F. ( Trap/Neuter/Release/Feed ) PROGRAM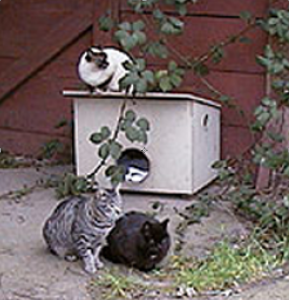 TNRF PROGRAMS ARE A VITAL PART OF THE PLAN TO END CAT HOMELESSNESS. USING SCIENCE BASED PRINCIPLES, TNRF WORKS QUICKLY TO STABILIZE CAT POPULATIONS IN A GIVEN AREA.
HERE'S HOW IT WORKS:
FERAL CATS ARE TRAPPED AND ALTERED. THEY ARE IMMUNIZED AND TREATED FOR ROUTINE ISSUES SUCH AS FLEAS AND WORMS. ANY CATS WITH SIGNS OF ILLNESS ARE KEPT FOR FURTHER TREATMENT OR EVALUATION. THEY ARE THEN RELEASED BACK INTO THE SAME AREA, TO BE FED, SHELTERED, AND MONITORED DAILY.
TAME CATS FOUND WITHIN THE COLONY ARE REMOVED AND REHOMED, AS ARE KITTENS.
WE ALSO WORK WITH NEIGHBORHOOD RESIDENTS TO ENSURE THEIR FREE ROAMING CATS ARE FIXED.
HERE'S WHY IT WORKS:
CATS HAVE VERY STRONG SURVIVAL INSTINCTS. WHEN FACED WITH HUNGER, LACK OF SHELTER, ILLNESS, OR OTHER STRESSORS, THEIR BREEDING CYCLES ACCELERATE, AND THEY BECOME EVEN MORE RELENTLESS IN THEIR PURSUIT OF FOOD AND SHELTER, BEHAVIORS THAT OFTEN GET THEM INTO TROUBLE WITH HUMANS OR WITH THEIR SURROUNDINGS. ALTERING AND VETTING CATS SIGNIFICANTLY REDUCES UNWANTED BEHAVIORS AND OF COURSE, ANY NEW KITTENS. EXISTING CATS ROUTINELY KEEP NEWCOMERS FROM SETTING UP RESIDENCE, AND WITH NATURAL ATTRITION, NUMBERS ARE REDUCED RELATIVELY QUICKLY. RIVER SONG FOUNDATION HAS USED TNRF IN MANY AREAS OF CLATSOP COUNTY AND SURROUNDING AREAS WITH GREAT SUCCESS, LOWERING HOMELESS CAT POPULATIONS BY UP TO 95 PERCENT IN AS LITTLE AS 1 YEAR.
COMBINED WITH AGGRESSIVE SPAY AND NEUTER PROGRAMS AND A ZERO TOLERANCE FOR FREE ROAMING UNALTERED CATS, TNRF IS A HUMANE AND EFFECTIVE TOOL IN ENDING SUFFERING FOR TENS OF THOUSANDS OF CLATSOP COUNTY CATS.
BECAUSE TNRF IS A PROVEN, SCIENCE BASED TOOL; IT LEAVES NO ROOM FOR ARGUMENT BY CAT HATERS. IT IS A WIN-WIN-WIN SOLUTION FOR CATS, CAT LOVERS, AND CAT HATERS ALIKE.
IF YOU ARE INTERESTED IN LEARNING TNR, OR WISH TO SUPPORT OUR EFFORTS, PLEASE CONTACT US!
FEEDING BANS, RELOCATION, AND KILLING OF CATS DO NOT WORK AND ARE CRUEL!
PLEASE HELP US REACH PEOPLE WITH THIS MESSAGE, THANK YOU!
   PLEASE CALL US FOR ASSISTANCE WITH TRAPPING OR MANAGING A FERAL CAT COLONY.
TRAPS AVAILABLE